Success comes from teamwork.
Microsoft Teams is a collaboration software developed by Microsoft. As a Silver Microsoft Partner, we provide support for businesses from assessment, installation, licensing, and support. 
It's not just a team communication app, but an integration of resources that lets you work from anywhere and on any device. It combines chat, meeting, calendar, file storage, and video in a single, fast, modern application.
It's totally cross-platform: available on Windows, Macs, iOS, and Android. And it's from Microsoft, so you can integrate it with all your other Microsoft tools – like Office 365, Planner, Power BI and more.
People are always saying that if you want quality software, you have to pay for it. But the truth is, if you want quality software, you have to support it. Software is never bug-free.
That's why we have decided to provide professional Microsoft Teams support for businesses. We believe that this is a great choice for businesses. As its popularity grows, it's important to have the best support available to companies using the platform.
Collaboration at its finest
Make your life easier, more efficient, and save time
Help your company work well together
Integrate with other SharePoint sites and Office 365 tools
Make it easy to collaborate across the organization at any time
Elimate the hassles of its technical aspects
Benefits of MS Teams Support
We at Troinet not only can provide you with MS Teams solution but can also set-up the tech environment that enables it such as network, IT maintenance, and security. Success is possible with MS Teams – the ultra chat and collaboration software.
Secure ecosystem with Microsoft
Valuable documents and resources in one place
You're busy, and you need to keep track of your documents. You don't want them scattered across different computers, phones, and cloud services. You need a single location where your data is stored. "Let me see… what do I have on my computer?" 
That's the problem you'll solve with Microsoft Teams. It's an app that lets you access all your notes, images, chats, calendar, and documents from anywhere. On any device, Teams is built to make it easy for things to get done. Your notes can be as simple as a list or as complex as a spreadsheet. They can be formatted with tables and pictures. And they can contain checklists, maps, hashtags—anything you want to remember later.
Tools to help you manage work
MS Teams collaboration app has a variety of tools to help people manage work. It's possible to assign tasks, create conversations, share documents, or host impromptu meetings as needed. 
Meetings are essential to the improvement of your company culture. But if you're spending too much time in meetings then everyone suffers. This app allows you to manage documents, create or join meetings more effectively. This software is a no-hassle way to manage your project tasks.
Share documents seamlessly
MS Teams puts an end to disorganized collaboration: You get instant collaboration, instant file sharing and instant editing anywhere, anytime.
This software bases its operations on the principle that everyone knows what they are talking about. Its simple interface allows you to reach out to anyone in your organization, even if they are currently involved in a team discussion.
Dedicate channels for announcements, trainings or marketing campaigns
In MS Teams, you can create separate channels for every topic. For example, you can have a channel called "marketing" and one called "HR."
The trouble with online discussion groups is that multiple topics take place in the same channel and those who receive it may not have relevance.
Security is not a product; it's a process. It's a personification. No particular technology or policy will make you secure; the only way to be secure is to develop an appropriate level of paranoia and establish proper safeguards and support who will be willing to respond appropriately to new threats.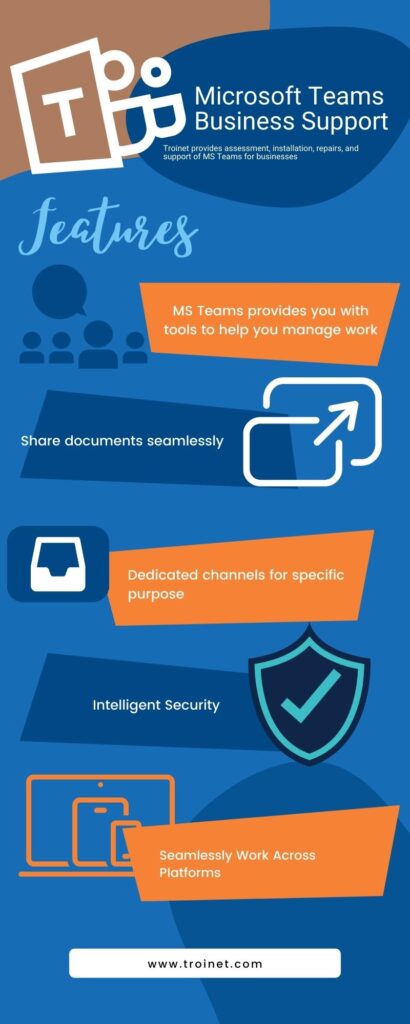 Works Seamlessly Across Platforms
The big idea behind MS Teams is that you can move between devices seamlessly. You start an email on the phone and finish it on the computer. Or you start typing the email in your desktop's browser and finish it at your iPad.
As we move from device to device, we carry our identity along with us. Your Microsoft ID is always with you; it travels from iPhone to Mac to iPad to Windows to Android. What MS Teams means for the user is that your apps know who you are and what you've been doing, even as you move from device to device.
Setup Conferencing Easily
A conference is a way of bringing people together. If it is any harder for a person to join a conference than it would be in person, your software failed you. People in a virtual conference should feel as if they were in the same room. People don't have to guess who said what, or which words came from the speaker and which from the guy sitting next to him.
Microsoft Teams is the collaboration platform by Microsoft . It has innovative features but sometimes it can be tough to find the information you're looking for. That's why Troinet has put together these resources to show you some of the basic things you need to get started with Microsoft Teams. Infographic: Get started with Microsoft Teams
MS Teams Product Features and Interface
Microsoft Teams Product Features and Interface
This video is a brief walkthrough of MS Teams' product features and interface. This tutorial highlights how to use this collaboration app, and features as channels, chats, calls, and files. Watch this video to see how Teams can help your employees collaborate and stay organized.
How to Manage Meetings with Microsoft Teams
Learn how to easily manage your meetings so you can spend more time building rapport and wooing clients.
Take full advantage of Microsoft Teams features to streamline your meeting process and get the most out of every meeting.
Our Microsoft Teams Support Services
Microsoft Teams Assessment
Microsoft Teams Installation and Support
Microsoft for Business Productivity
Microsoft Server Support
Microsoft Office 365
Microsoft Access